~~~~~~~~~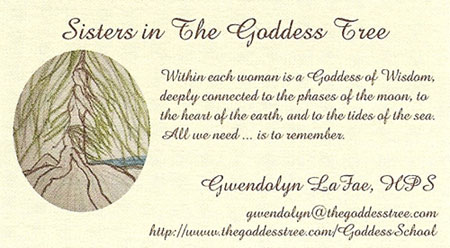 Sisters in the Goddess Tree, Coventry of the Divine Feminine is now accepting students, women only age 18 and older. Click here for more information
The Goddess Tree is all about empowering ourselves as women ... by finding the Goddess Within. We start with the basics - and move on to the magical. It is the position of this school that all spiritual paths and belief systems can benefit by incorporating the Divine Feminine. The teachings here are based on ordinary magick and the principle that the mundane and the Divine are not separate - but peacefully coexist in all things. Know Mother Earth as the ultimate healer, and learn to utilize her gifts of nature. Inside each woman is a being of wisdom, deeply connected to the phases of the moon, to the heart of the earth, and to the tides of the sea. All we need...is to remember.
I know these lessons helped me establish an inner peace, in realizing my self as maiden, mother, crone, as a Goddess. I truly feel that all women possess great wisdom and power, and this is why I decided to pass along these teachings, to help women realize...and remember.
~~~~~~~~~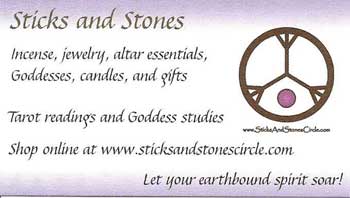 for high-quality incense and burners, Goddess items, candles, jewelry, and much more. New items arrive all the time! Whatever you call us - Metaphysical, New Age, Pagan, Wiccan, or hippie tree-huggers - you are always welcome in our circle. We respect all spiritual paths and invite you to share and learn with us as we grow.
~~~~~~~~~